Saint Catherine Medal
The Saint Catherine Medal for Student Achievement is an annual award for presentation at colleges and universities affiliated with Kappa Gamma Pi, the National Catholic College Graduate Honor Society.
The medal depicts the traditional patroness of Kappa Gamma Pi, Saint Catherine of Alexandria , virgin martyr (c 310), encircled by the spiked wheel of her legendary martyrdom and holding a quill and scroll, which symbolize learning and wisdom.
NOTE: Only affiliate college staff members are able to purchase this product.
To order, please fill out the request below.
Bronze – $35.00
Gold-Plated – $40.00
Sterling Silver – $65.00
White Gold Filled – $105.00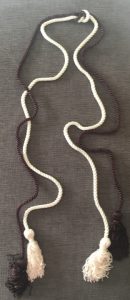 To wear with academic cap and gown. 56" long with 3½" soft tassels in an attractive mahogany brown and ivory twist, Kappa's distinctive color combination. Graduates who have been nominated to membership in Kappa Gamma Pi may wear mahogany brown and ivory honor cords to signify this honor.
Cords may be ordered by the individual or by the nominating college or university. If you are an affiliate from a nominating college or university, please use the honor cord order form as you will receive a discounted rate. Please email the completed form to kgp@kappagammapi.org.